Three years of Admiral Shark's Keyboards
Admiral Shark's Keyboards made it to three... At least for me, it's pretty mad how quick this year went by compared to the previous two years. What started as a portfolio piece has grown far beyond that and I'm proud of what it's accomplished and grateful to everyone who has supported me. I've already explained the backstory of this website in the second-year anniversary post, thus I'll spare you it this time and will be focusing on what's happened since last year and looking into the future.
But first, the much-deserved thank yous. Much like last year, I would have called the project quits if it hadn't been read and enjoyed by people in the hobby either interested in vintage keyboards or typically modern/custom keyboard users who are interested and appreciative of where their favourite typing devices descended from. So yeah, thank you for sticking by and reading stuff on Admiral Shark's Keyboards - you make it all worthwhile.
Echoing last year's sentiment; whenever I get a message or email offering appreciation for my work, it really makes my day. Just knowing something I've done helps others stay informed and understand aspects of our beloved hobby is a great feeling and an affirmation that what I'm doing matters. Especially providing help to new people in the hobby is always a pleasure since I know all too well how asking questions can render responses like "you should know this" or (apologies for the expletive) "dumbass".
Without further ado, let's take a look at all the things that have happened since September 2021.
MKUK Meetup 6
Literally just two days ago from time of writing, I attended the sixth MKUK meetup in London! I brought with me a sample of IBM keyboards and even gave a talk on IBM keyboard history (transcribed presentation coming shortly) that was - thankfully - well received. I got to meet a lot of folks from the MKUK Discord server and various others that I'm in, including a few people from my subreddit. As you can see in the photo below (going left to right and front to back), I brought with me:
IBM Japan MICRO CADAM LPFK
IBM Space Saver Keyboard with TrackPoint II (Model M4-1)
IBM RPOS Modifiable Layout Keyboard (Model M11)
IBM 5155 Portable PC Keyboard (Model F)
IBM Electronic Typewriter 50/60/75 Keyboard Assembly
IBM PS/2 L40SX Numeric Keypad (Model M3)
IBM ThinkPad 365 series Keyboard Assembly (Model M6-1)
IBM 50-Key Keyboard (Model M).
Due to travelling by coach, I couldn't take any of the 'big guns', thus opted for many smaller keyboards to still provide a range.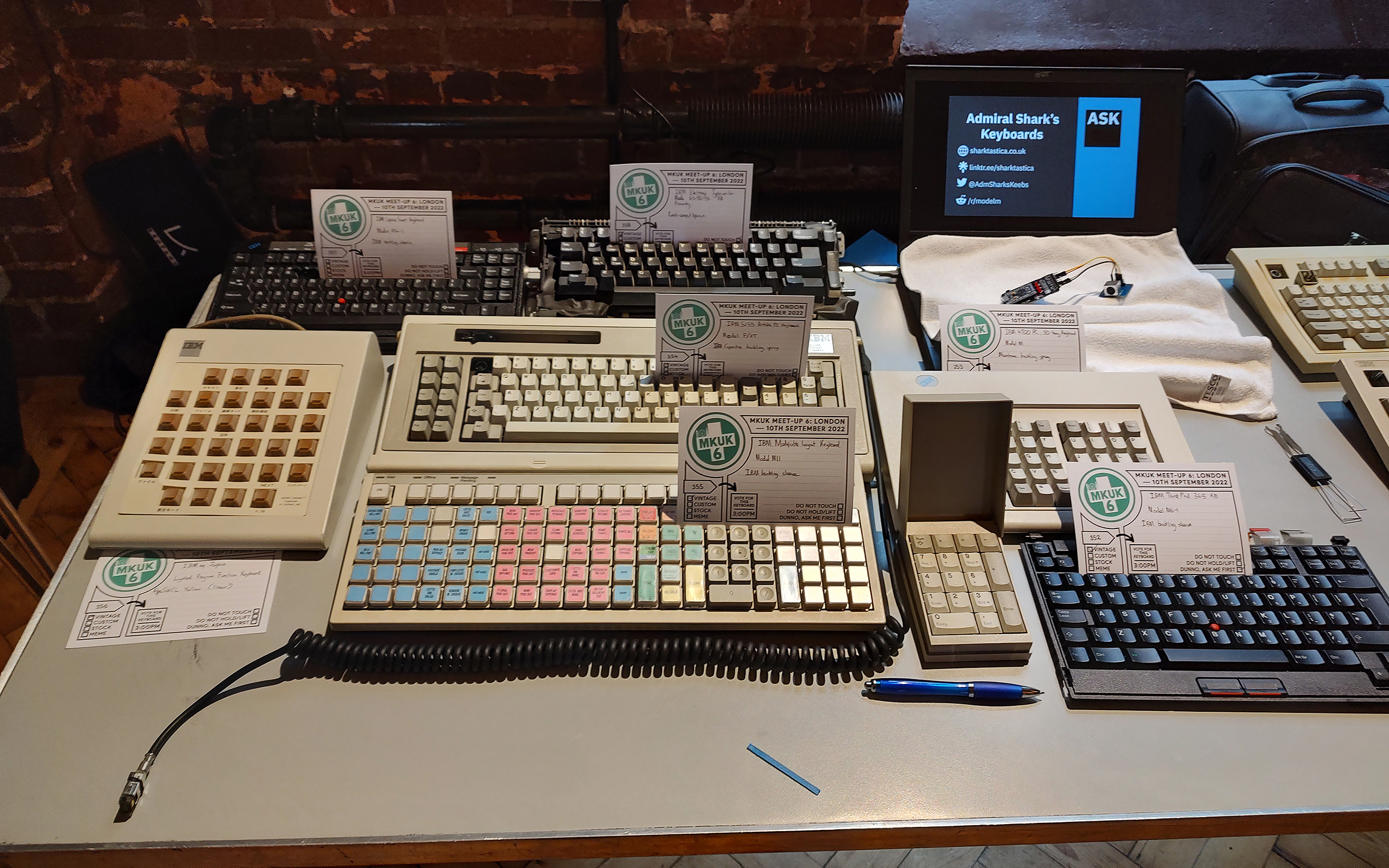 The LPFK and all the buckling sleeve keyboards got the most attention, with many people actually appreciating this key-switch that I've rambled on about for over a year now! Big thanks to MKUK Discord's Gouty and Meowsaur and the folks at MechKeys for making this meetup a reality - I'm looking forward to the next one! Also, shoutout to my server/subreddit regular Crizender for hanging out.
Shoutout in a Shoobs video
Another exciting event was Twitch streamer shoobstube giving me a shoutout in their Keyboards that changed the world YouTube video on 1st July 2022! The video introduces the IBM Models F and M and their buckling springs along with some historical context and typing demos right at the end. They reached out to me in mid-June asking if I would be okay with them citing my website in a then-upcoming video, then a few days later asked if I would look over the historical portion of the video to check if it was accurate. I was happy to help out and gave some feedback, although to be fair, Shoobs already did their research and it was pretty good already.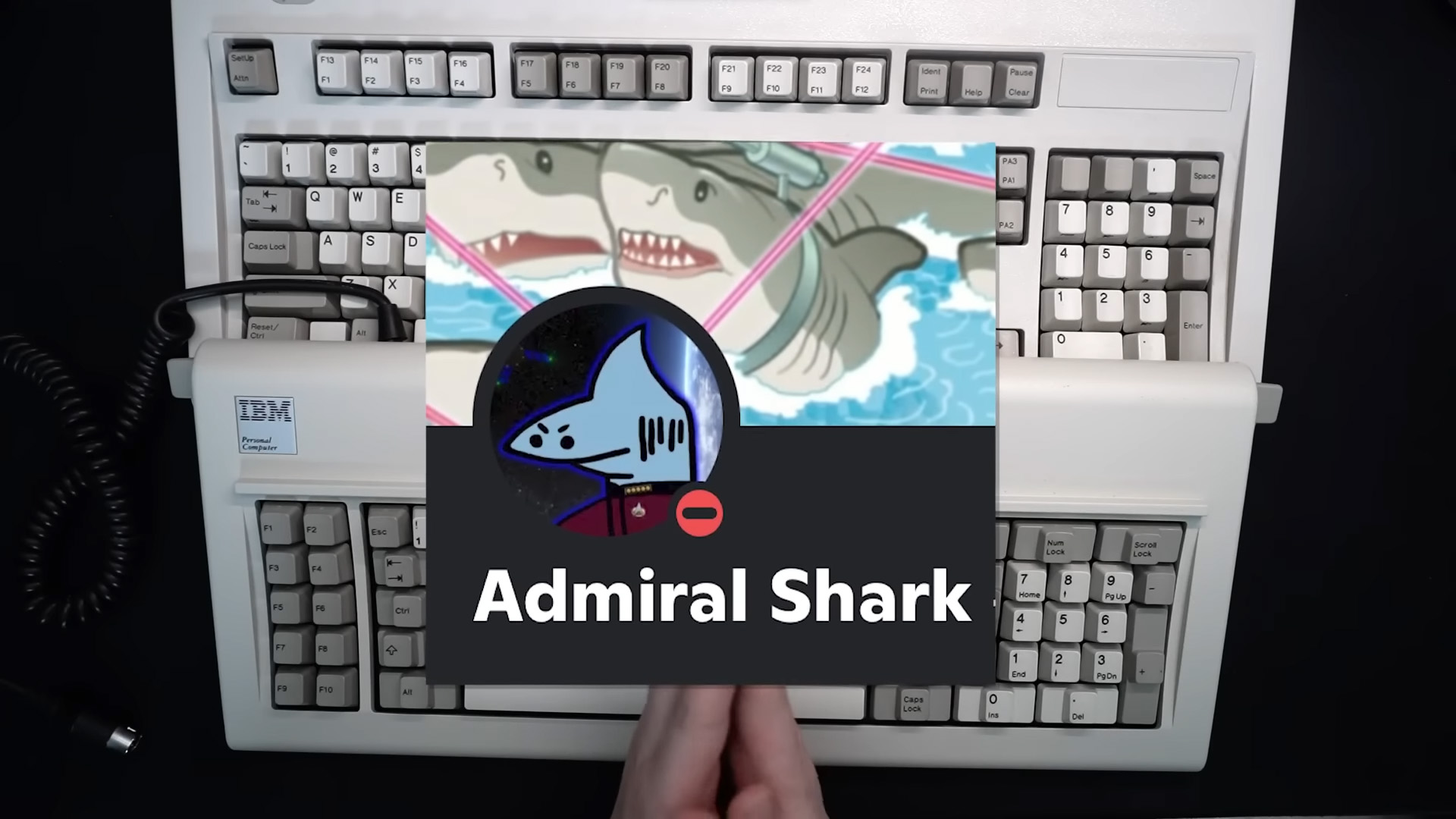 The video isn't a massive documentary on the keyboards but it didn't need to be - it introduces these two IBM keyboard families to their predominately custom keyboards audience and it does so whilst getting the foundational facts about them right instead of repeating the typical stretches and inaccuracies from other media outlets. It's a good video and worth a check!
New branding
The first site-related thing I want to touch on is site branding. You may have noticed that many of the former shark icons such as what used to be the home button at the top-left have been replaced with a black "ASK" logo. As the project is maturing, I decided it was time to develop the site identity further. The shark is not going away, but this new logo is the new face of the site and a full and minimal version exists. Inspiration is taken from IBM's industrial logos. However, it's technically still a work in progress and subject to change.
Also since I've been asked about it, I may do limited runs of merch in the future as well as some PCB stuff now that there's at least some branding developed... It's not something I've really thought about or wanted to get distracted with, but if enough people ask, I can see what I can do.
Recent site restructure & the Keyboard Directory
Released just in time for this anniversary, this website has recently received a major overhaul of the principal pages sporting links to content on this website. If you're new to this website and unfamiliar with the previous structure, the "Articles", "Guides" and "Media" pages were once unified under a single page simply called "The Content" but I've recently felt it was time that these types of content should stand on their own.

This change coincided with the preview release of the Keyboards Directory feature. Essentially, a Yellow Pages of sorts for IBM and family keyboards. The idea was adapted from my plans to overhaul the Major Keyboard Types topic page with real photos and including other families of IBM keyboards, but I decided to depreciate that page (which was already becoming obsolete thanks to various wiki pages doing a better job) and work on a new feature that lists as many individual IBM keyboards as possible along with some basic info, common part numbers and links on where to find out more.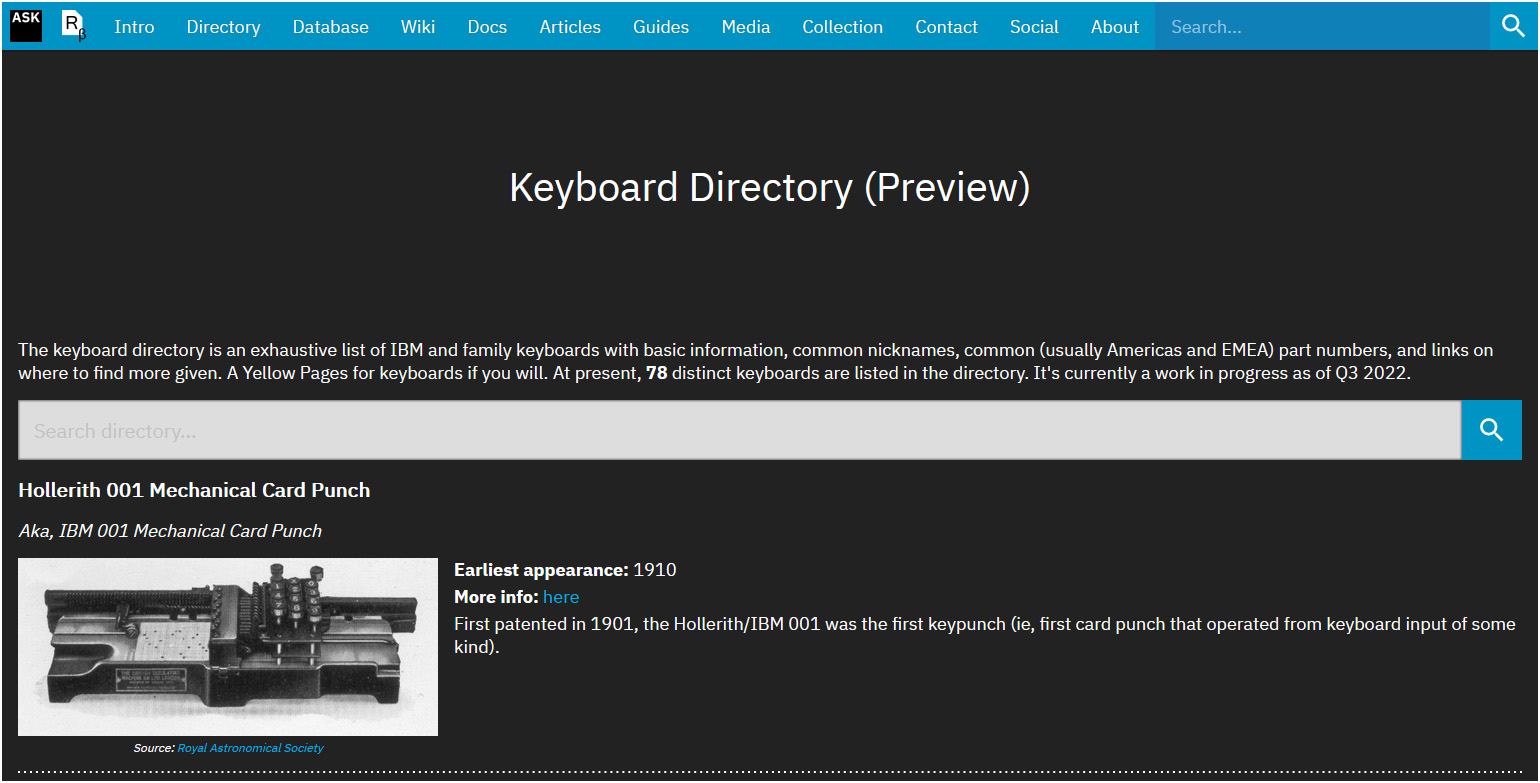 As specifically stated, this feature is technically a preview. This means the data points given are subject to change and the list itself is still incomplete. But, it's enough to give you a sense of what's coming. I anticipate initial completion by mid-October 2022.
The latest articles
If you're a regular, you may have noticed there were only two articles released since last year. As I believe I mentioned in the second-year anniversary post, the rest of 2021 and the start of 2022 were focused on maturing the wiki instead. That said, I made sure the two articles that were released were as, we Brits say, absolute bangers and groundbreaking.
Namely, Revealed: IBM Model M3 & M6 laptop buckling sleeves keyboards from December 2021 and Apple Newton Keyboard - The time Apple turned to IBM/Lexmark for a Model M from April 2022. I continued to build upon what I started with the seminal Revealed: The story of the IBM Model M4 family article from July last year, researching, collecting and presenting information and my findings on the seldom-explored IBM buckling sleeves keyboard family. Both articles are pretty big reads, but they had to be since there was a lot of information to cover! They're good explorations into how the Model M family reached markets few people knew about. I'm proud of them.
The following year should have some more articles. I already have three in development; one launching by the end of September 2022 regarding the IBM 5576-C01, and two new instalments for the Revealed series on buckling sleeves due Q1 2023 and Q2 2023 respectively.
Wiki updates
As I alluded to, developing the wiki has been the primary focus of the last year. Motivated by the uncertainty of deskthority's future, I wanted to plant the seeds for this site feature to grow as quickly and as accurately as possible.
At the moment, a whopping 27 wiki pages are under development and not yet public. I've been adding to each via a 'round robin scheduling' approach to try to keep them all moving together (I thought about trying to do one after the other, but I don't want to risk burning myself out or losing interest). Throughout Q4 2022 and Q1 2023, I'm planning to launch at least 10 of these pages. I have 3 due within the next few weeks - IBM Card Punch keyboards, IBM typewriter printer-keyboards and Model M13 wiki pages. For now, here's a sample of the best new or heavily improved wiki pages that have made it to public preview:
Database updates
This time last year, the Keyboard Part Number Database's part number count was just over 1,500 - it's now over 2,500! The database reached this milestone on 10th June 2022 for which I wrote a celebration regarding. That page has some cool infographics created using database data, but here's perhaps the most summative one: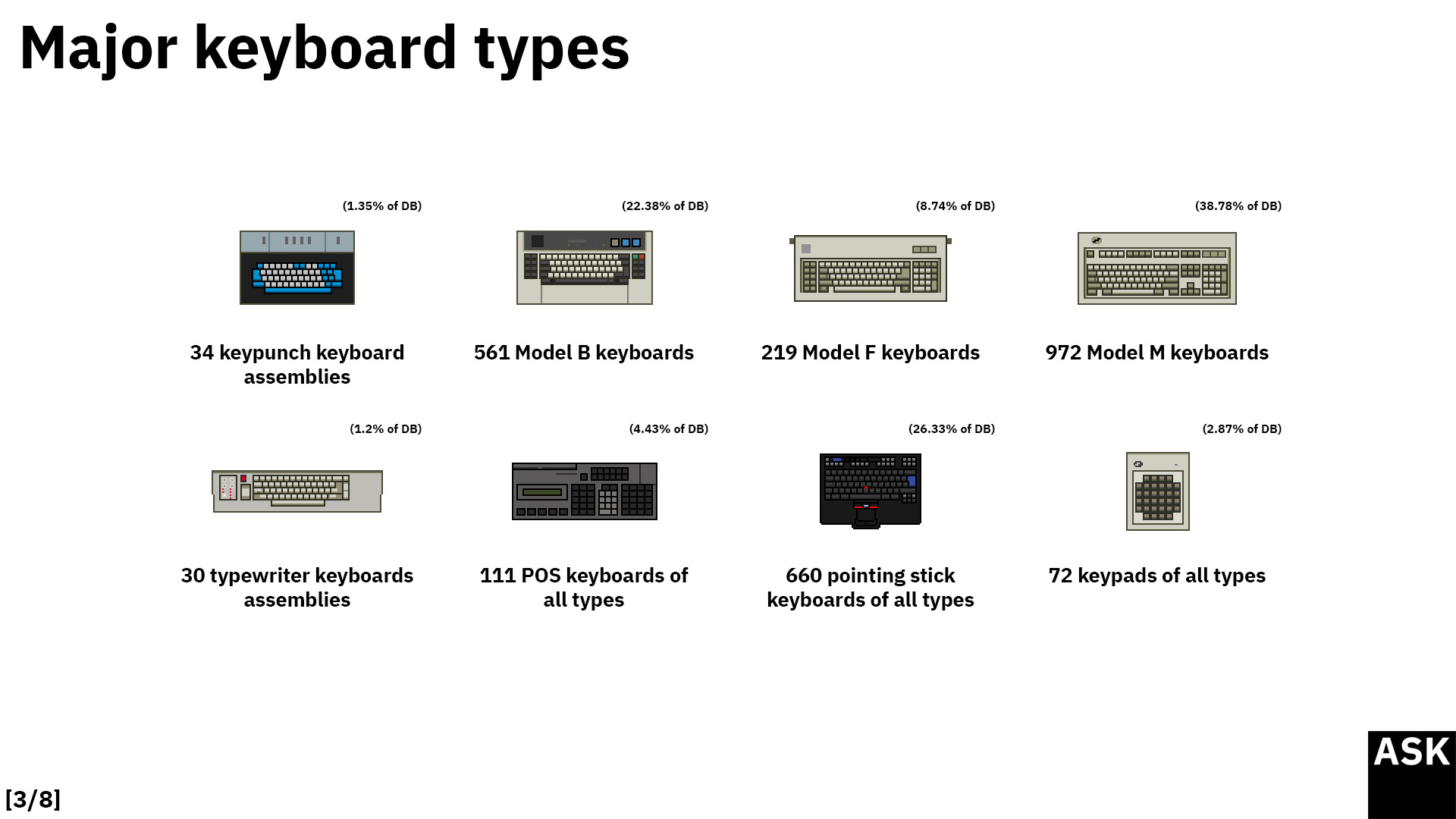 The most notable additions since last year have been a slew of IBM Card Punch and Model B keyboard part numbers, meaning the database now stretches back to keyboards from as early as 1949! The structure and how one accesses the database have also been overhauled, with a new landing page with various viewing/querying options given and some fields now linking to an example photo or diagram of a given property for context.
Due in the near future will be a focus on adding old IBM keyboard family part numbers, especially Card Punch, printer-keyboard and elastic diaphragm keyboard part numbers.
To sign this off then...
This year has been a great one for Admiral Shark's Keyboards - not many editorial pieces were released, but at least a few quality articles made it out, the wiki is starting to mature with many new pages due over the next two quarters, and the database has become the largest of such on the internet! I've also finally made an in-person debut at a meetup and met some good people from my subreddit and various Discord servers I'm in.
See you next year,
Kali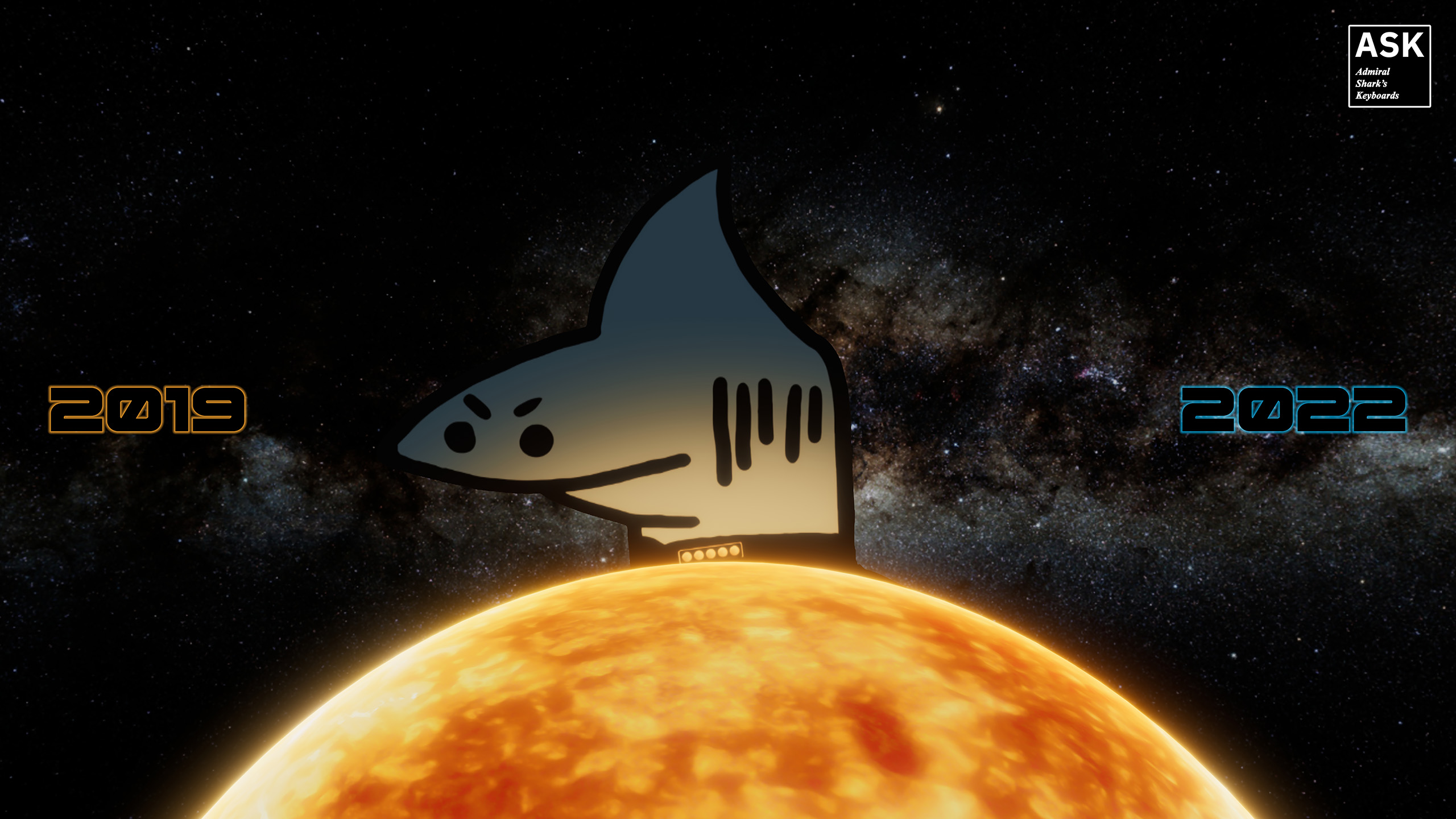 ---
Public announcement SNPA-202209A
Published 2022-09-12